Project Background/Purpose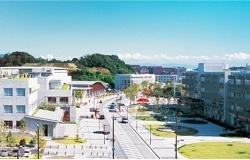 Cutting-edge technological advances have been achieved in both the automobile and robot industries. For example, a driving safety support system has been installed even in small cars, and intelligent cleaning robots are used widely in homes around the world. The development of intelligent robots for nursing and household services is also anticipated, addressing the needs of aging societies. This outlook highlights the necessity to continue and enhance the development of intelligent cars and service robots, an endeavor that involves several fields of engineering such as mechanics, electronics, and control and information engineering. There is a need for engineers who have advanced specializations and comprehensive knowledge of interdisciplinary engineering. However, the present engineering education systems in universities, which divide the fields by specialization, make it difficult to foster such engineers.

In the northern Kyushu region of Japan, the automotive industry is a key industry, with production reaching nearly 1.5 million vehicles per year. Robotics has established a presence in this region, with enterprises such as an industrial robot manufacturer and venture corporations making service robots. An exciting industrial infrastructure for both cars and robots is developing in northern Kyushu.

The Kitakyushu Science and Research Park (KSRP) has a campus that includes three graduate schools of engineering: Kyushu Institute of Technology, the University of Kitakyushu, and Waseda University, which are national, public, and private universities, respectively. In 2008 these schools established The Joint Graduate School Car Electronics Course, which has received high evaluations.  The Joint Graduate School Intelligent Car and Robotics Course  started in 2012, offered by these three graduate schools in the Kitakyushu Science and Research Park plus the Graduate School of Engineering in Tobata and the Graduate School of Computer Science and System Engineering in Iizuka, supported by companies such as Toyota Motor, Nissan Motor, Denso, and Yaskawa Electric Corporation as well as a ministry of Japan.* This program utilizes the know-how gained through the earlier Car Electronics Course, combines several fields of expertise to enhance the functionality of intelligent cars and robots, and establishes a new educational structure.
The purpose of the Joint Graduate School is to foster highly skilled  personnel who will gain practical ability as leaders to support next-generation technology, mastering their special fields, understanding the peripheral technology, and leading research and development teams in technical fields focusing on intelligent car and robot technology. Substantial development is anticipated in the field of intelligent electric cars, and the Joint Graduate School Intelligent Car and Robotics Course is expected to be an integral driver in this development.
---