Features of the Three Universities
Kyushu Institute of Technology (Kyutech)
---
Features
A national engineering university with a one hundred year history. Based on our fundamental principle, "to instill a deep knowledge of science and engineering in high caliber students", we set our goal to become "information sources to send out knowledge and culture".
Affiliated Graduate Schools
Graduate School of Life Science and Systems Engineering (LSSE) (in Kitakyushu Science and Research Park)
The goal of LSSE is the application of superior constructions and functions of living organisms and the brain to engineering developing new fields of academic study, and fostering engineers who understand biology and information technologists who understand the brain.
[Strengths in this course]
Robotics, Brain-Like Intelligent Devices and Brain-Inspired Information Processing Technology
Graduate School of Engineering (in Tobata Campus)
The top-runner of research and development in space, energy and QOL areas.
[Strengths in this course]
Mechanical Engineering
Graduate School of Computer Science and Systems Engineering (in Iizuka Campus)
Research and developing innovative computer and information systems.
Fostering highly-skilled information engineers and researchers to lead the 21st century.
[Strengths in this course]
Information Engineering, Image Processing, and Pattern Recognition
The University of Kitakyushu
---
Features
A prefectural and municipal university with a sixty year history, having a total number of 7,000 students. Five faculties and four graduate schools have been established in both the Kitagata and Hibikino Campuses.
Affiliated Graduate School
Graduate School of Environmental Engineering (in Kitakyushu Science and Research Park)
Conducting peerless research and technology development blending environmental and information technologies. Fostering engineers who play active roles in ubiquitous society.
[Strengths in this course]
Machining technique, sensing technology, information/communication technology and embedded system technology.
Waseda University
---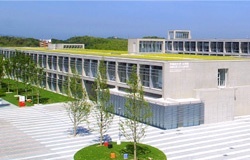 Features
The most famous private university in Japan, having a proud 125-year tradition producing many celebrities. It has 10 faculties, 13 departments and 21 graduate schools.
Affiliated Graduate School
Graduate School of Information, Production and Systems (IPS) (in Kitakyushu Science and Research Park)
Integrate the three fields: I (Information Architecture), P (Production System) and S (System LSI) through a total perspective. Fostering a large number of highly-skilled engineers and researchers for an international era aiming at co-creation of knowledge in the Asia-Pacific region.
[Strengths in this course]
Automobile Engineering